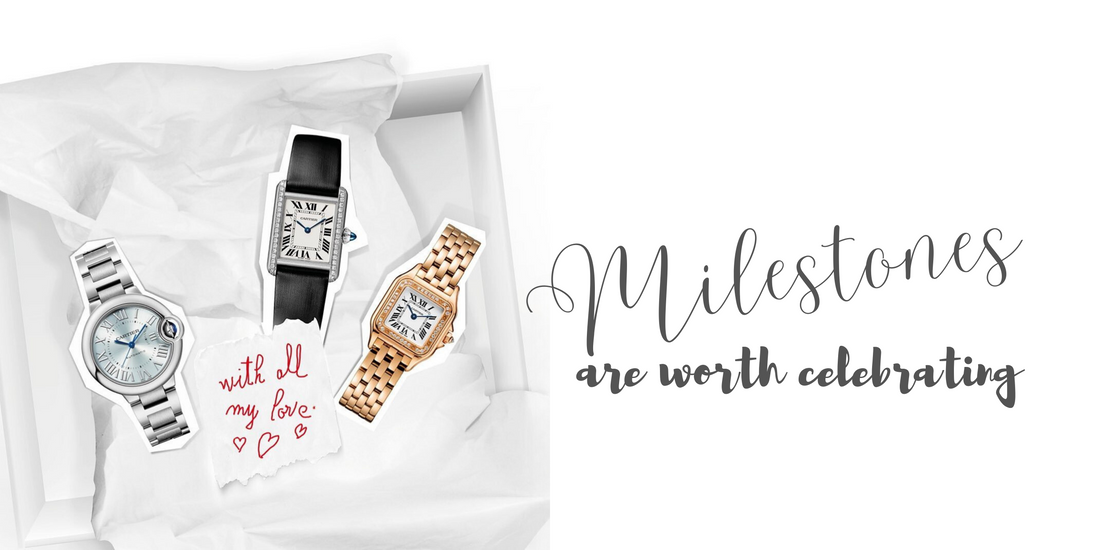 Celebrating Life's Milestones with Timeless Watches: A Journey Through Time
Throughout your life, you have experienced a series of moments that weave together to form your story. It is a unique tapestry of happy, sad, tragic, and triumphant moments that make up the fabric of your life. Even though it's common to forget the day-to-day moments, specific events often leave a lasting impression on our lives and stand out as major markers. Milestones like a BIG birthday, or a jubilee anniversary, or the ultimate BIG wedding or the birth of a child deserve to be celebrated and remembered. A timeless gift is the best way to honor these special milestone moments. Join us as we unfold our Personalized Milestones collection, featuring unique gift ideas to commemorate those important milestones.
Landmark birthday: 
Cartier watches are more than just a timepiece; they're an invitation into the world of sophistication, especially on milestone birthdays like 16, 18, or 21. A timeless keepsake, the
Cartier Tank
, in particular, exemplifies the glamor of adulthood by seamlessly combining style and substance. However, a 30th birthday deserves a reliable companion like the
Panerai Luminor Due
. It's more than an accessory; it symbolizes success and is a beacon for the future. Great things happen when you are 40, and to commemorate this big and exciting milestone, none other than the
IWC BIG Pilot
. It's bold and radiates self-confidence and decisiveness. Designed to celebrate the past and future, the
Reverso Classic Duoface
is the perfect complement to your 50th birthday celebration. Beyond being a watch, it's a symbol of a life well-lived, enduring achievements, and a stylish guide into the golden years. 
The ultimate BIG day: 
Wedding day is deemed to be one of the greatest days. It isn't just the union of two individuals; it's the joining of families and loved ones. Celebrating love, exchanging gifts, and sharing special memories makes it even more special. Whether it is the
Ronde de Cartier
, Ballon Bleu, Tank collection from Cartier or the
Omega Constellation
, these make great wedding gifts, as well as doubles for him and her. For the "bride-to-be", Cartier's
Panthère de Cartier
or
Piaget's Limelight Gala
would be a perfect fit, symbolizing unity, love, and enduring style. As for the groom, the
IWC Portugieser
is the epitome of sophistication and style. Unlike mere gifts, these watches provide lasting memories that can be treasured for a lifetime. With timeless charm and precision, they transcend the label of mere gifts.
Jubilee Anniversary: 
The Jubilee marks a major milestone in celebrating a life of togetherness through the different phases of life. The silver jubilee, or the 25th-anniversary celebration, calls for an icon like
Cartier's Ballon bleu
, symbolic of endless skies on the journey of love. As for celebrating half a century of togetherness or the golden jubilee, the
JLC Reverso
, with a story to tell through its reversible case, is the ultimate choice. In honor of the Diamond Jubilee (60),
Omega Constellation
stands for enduring love with its timeless and precise design. While for the platinum jubilee (70), seven decades of togetherness, and a rare and precious journey, the unique
Breguet Classique
and
Breguet Reine de Naples
, with their intricate craftsmanship and timeless design, symbolize the enduring love that has endured for seven decades. 
A Push Present: 
There is nothing like the journey of motherhood, and it deserves a remarkable gift for its extraordinary nature. The
Piaget Possession
Collection, exuding elegance and grace, symbolizes eternal love and commemorates a new journey. In addition to celebrating the new life that has arrived, Piaget's possession collection of exquisite rings, pendants, bracelets, and timepieces also reminds us of the love and support surrounding it. 
Every tick of a timepiece represents a moment in time that can never be relieved. Timepieces are not just gifts but vessels of memories, markers of accomplishments, and keepers of love stories.
In this remarkable voyage of life, what better place to acquire these tokens of timeless elegance and celebrate your milestones than at Art of Time? Shop now and find the perfect way to commemorate your special moments.