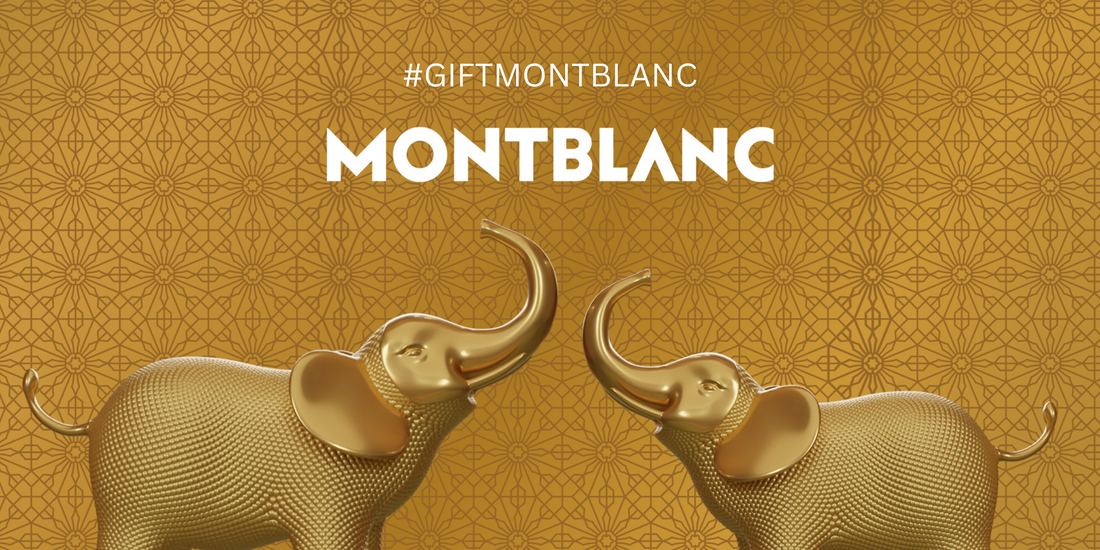 MONTBLANC: WHERE EVERY GIFT TELLS A TIMELESS TALE
THE ENIGMATIC WORLD OF MONTBLANC GIFTING 
Throughout history, gifting has been a heartfelt gesture, a silent language of love, appreciation, and celebration. With Montblanc, this simple act transcends the ordinary. There is a story behind every Montblanc piece, be it a writing instrument, a notebook, or an accessory. The meticulous craftsmanship, the attention to detail, and the rich legacy that each product carries transform gifting into a shared journey. Gifts from Montblanc traverse the realms of luxury lifestyle, history, and artistic excellence, creating cherished memories.
Over the last century, Montblanc has seamlessly merged art with luxury, curating expansive and astonishing collections masterfully crafted to resonate with life's myriad moments. Montblanc captures all the vitality and warmth of festivities, new beginnings, birthdays, anniversaries, and their pride, as well as the quiet moments of gratitude, with unparalleled elegance. These celebrations are marked by grand gestures and gifts that reflect the highest quality, craftsmanship, sophistication, and timelessness. Find the perfect Montblanc gift and personalize your own.
FOR THE MODERN-DAY GENTLEMAN 
Venturing into Montblanc's
Luxury Gifts for Men
is like unraveling tales of artistry and timeless allure. You will find something special for him: a finely crafted instrument to inspire writing, a sophisticated watch, a bag or an accessory. 
 FEATURED: The Montblanc writers' limited edition Homage to Robert Louis Stevenson is a unique gift, no matter the occasion. It's not just a pen but an emblem of life's rich tapestry. 
CELEBRATING THE EMPOWERED WOMAN: 
Montblanc's Gifts for Her is an ode to the modern woman, reflecting on her strength, grace, and complexity. Find a present she will love from Montblanc's selection of luxurious gifts. Whether it's an exquisite timepiece, a finely crafted leather accessory or an elegant piece of jewelry, choose the perfect gift, whatever the occasion.
FEATURED:
 The Montblanc Masters of Art, a homage to Vincent Van Gogh, Limited edition 4810
fountain pen
. Crafted precisely, it mirrors Montblanc's artistry's intricate layers and resilience and fuels ingenuity and imagination.
THE CHARM OF PERSONALIZATION
While Montblanc's exquisite offerings radiate luxury, there's something undeniably magical about adding a personal touch. Make your next Montblanc gift truly thoughtful with a personalized design. Add a bespoke twist to your chosen item with customisable detailing, from luggage and leather goods to writing instruments. Engrave a name, etch a significant date, or emboss a unique logo. An intricately personalized gift will become a timeless treasure that forever echoes the emotions and memories of that special occasion. 
A SYMPHONY OF LUXURY AND EMOTIONS 
In the grand tapestry of life, moments come and go, but memories etched in luxury stand the test of time. With Montblanc, every gift becomes a story. So, as you stand on the cusp of your next celebration, remember: with Montblanc, you aren't just offering a gift—you're gifting a piece of art, a segment of history, a slice of luxury. Dive deep into this world, and let every occasion be adorned with smiles, elegance, and a touch of Montblanc magic.
When words fall short, let Montblanc's legacy do the talking. 
FEATURED BLOG
FEATURED CATEGORY