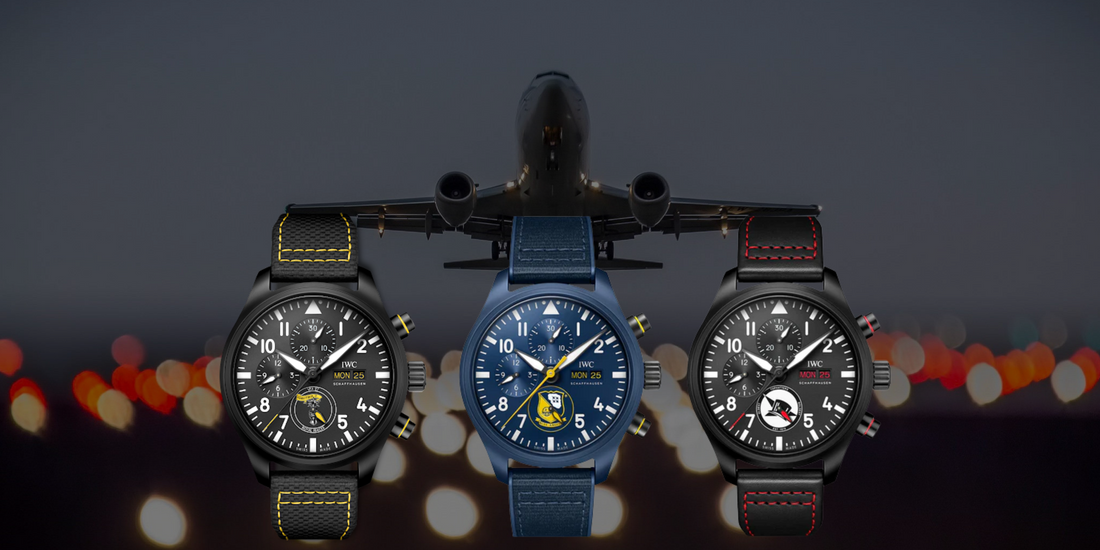 Timepieces that tell a story
Primarily watches are categorised for their functionality, utility, history and design (The Big Crown); one category purely born out of love and passion is "The Collectibles". While several notable luxury watch brands have a rich history and heritage,
IWC Schaffhausen
has some of the most covetable collectable timepieces. 
IWC engineered its first Pilot's watch nearly 85 years ago and is now licensed to work on the watches for the entire U.S. Navy and Marine Corps aviation units. IWC, since, has collaborated with over a dozen squadrons to create special editions for present and former members. However, the newest edition to the iconic Pilot's collection emerged from the brand's collaboration with the U.S. Navy squadrons - The Royal Maces, The Tophatters and The Blue Angels. These timepieces offer a revolutionary design and mark a first for being available to non-pilots. The annual production of these timepieces is limited to 500 pieces each and is only one of the reasons that makes them stratospherically collectable.
Inspired by a military-exclusive watch developed with the "Blue Angels" squad, this chronograph features a striking blue ceramic case with eye-catching details in yellow - The unit's colour scheme. Inside the dial is the squadron patch at 6'0 clock, and the case back is engraved with "Blue angels" lettering. Fitted with a Blue strap, this watch perfectly blends robustness and style.
This Pilot's Watch Chronograph Edition "Royal Maces" is inspired by the military-exclusive edition created in collaboration with members of the Strike Fighter Squadron 27. The dial carries the "Maces" patch at 6 o'clock and features a yellow day-date indication. The yellow stitching on the black leather strap, the tip of the chronograph seconds hand and the small seconds add details in the signature "Maces" colour, exuding royalty. 
Love at first "height", the Pilot's Watch Chronograph Edition "Tophatters" is a divine blend of black and red shades. Dedicated to the Strike Fighter Squadron 14, this black timepiece is designed with the characteristic red hue of the squadron. Versatile in all its might, the Tophatters perfectly illustrate modernity and rich history.
The IWC Pilot's watch collection is the ever-evolving collection of much sought-after cockpit-inspired timepieces representing a world of complications, revolutionary design and a piece of history that every collector wishes to acquire.
Explore the collection. Call +91 97732 33333 to know more.