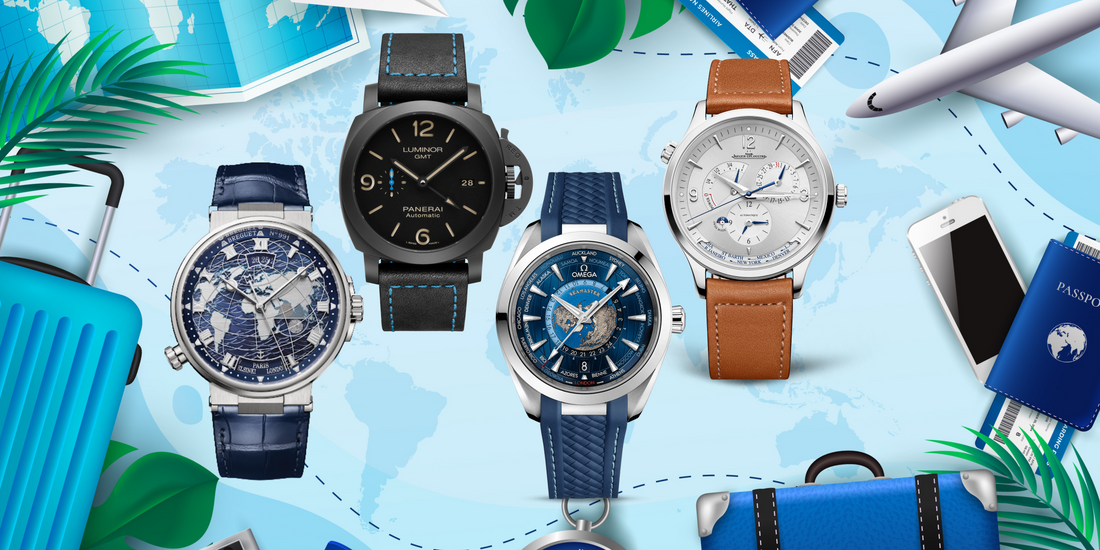 Navigating World Timer, GMT, and Dual Timezone Watches
Watch complications are any functions beyond telling time on a timepiece. In these complications, special functions are performed and displayed on the watch to make your life easier. If you are a watch enthusiast, you might have heard about these complications: World Time, GMT, and Dual Timezone. Did you ever wonder what sets one apart from the other?
Buckle up and get ready for a wild ride through time zones! As we shed light on the functionality and subtle differences of these complications.
GMT WATCHES 
Greenwich Mean Time (GMT) refers to the timezone at zero degrees of longitude that runs through the London suburb of Greenwich. GMT watches are designed to track this time zone and are often used by travelers, sailors, and pilots who need to keep track of multiple time zones. GMT watches feature a second-hour hand that can be set to a different time zone. The two time zones can be read off the watch face at any time. 
The
Panerai Luminor GMT PAM01441
is a stunning example of a GMT watch that offers both style and functionality. With its rugged and stylish looks and advanced timekeeping features, this watch is ideal for anyone who travels frequently or needs to keep track of multiple time zones.
THE WORLDTIMER WATCH 
Imagine you're a modern-day jet-setter or a business entrepreneur who at once needs to see multiple time zones. Enter the World Timer. Its nifty rotating 24-hour bezel and dial marked with different cities in 24 time zones make it a must-have for avid travelers and watch enthusiasts.
When it comes to the finest Worldtimer watches, our current two picks are the
Omega Seamaster Aqua Terra 150M Co-Axial Master Chronometer GMT Worldtimer
, and the
JLC Master Control Geographic
. While the complication remains the same, there is a significant difference in representation. The Seamaster has a modern approach, with its sleek design and 24-hour dial. The JLC's vintage look is more traditional, with its classic color scheme. Both watches offer a stylish and sophisticated way to keep track of time zones around the world.
DUAL TIME WATCHES 
Dual timezone watches are great for travelers. They display two separate and distinct time zones simultaneously, so you know exactly what time it is at your home and destination. This makes them an ideal choice for frequent travelers or individuals who work with people in different parts of the world. One of the most outstanding dual-timezone watches is the Breguet Marine Dual Time. This watch features an innovative design that combines modern aesthetics with classic elements. The watch has two separate hour hands, with the second-hour hand indicating the time in a second time zone. The watch also features a date display and power reserve indicator, making it both functional and stylish. 
Dual time zones are not to be confused with GMT. GMT is a 24-hour clock format used to track time around the world. Unlike dual time zones, which allow the user to keep track of two different time zones, GMT is a single time zone adjusted to the user's location. 
For example, the Breguet Marine Dual Time 5557 watch allows you to view two time zones simultaneously. In contrast, the
Breguet Tradition GMT 7067
watch allows you to track three time zones at once. 
Well, folks, as a traveler at heart, I can tell you that these watches are an absolute game-changer. No more fiddling around with your phone to figure out what time it is back home or at your next destination. These watches keep you on time and elevate your style game to the next level. So, whether you're exploring various cultures, expanding your business empire, or simply living your dream life, a world timer, GMT, or dual timezone watch complications truly simplify your life.
Leave a comment